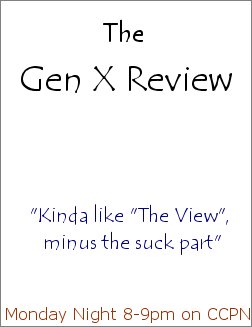 Peeps: Sub, Heather Havens, Larry McG, DPad
Roving Reporter: Dylan
This week on the Gen X Review
Guests: Paul Thomas Anderson and Jennifer Aniston.
Musical Guest: Foo Fighters.
The group comments about the news of the week. Roving reporter Dylan gives his Campaign 2000 update. Heather and DPad talk about the new movies in the theaters this week. Sub and Larry McG rank the top ten bands of the 1990's. Sub gives out his recipe for red beans and rice. The group makes fun of Richard Simmons' big ass and Madonna's affected acccent.
Sketches: Golf Cart Ridin' Fatboys, Exploding Cheerleaders.